Investor Relations
Overview
AnaptysBio is a clinical-stage biotechnology company focused on delivering innovative immunology therapeutics. We are developing immune cell modulators, including two checkpoint agonists in clinical-stage development, for autoimmune and inflammatory disease: rosnilimab, our anti-PD-1 agonist program, previously referred to as ANB030, which is currently in a Phase 2 clinical trial for the treatment of moderate-to-severe alopecia areata; and ANB032, our anti-BTLA agonist program. In addition, we are developing imsidolimab, our anti-IL-36R antibody, which is currently in a Phase 3 clinical trial for the treatment of generalized pustular psoriasis, or GPP. We also have additional preclinical programs and discovery research of potentially innovative immunology therapeutics, including ANB033, an anti-CD122 antagonist antibody for the treatment of inflammatory diseases. We have also developed multiple therapeutic antibodies in an immuno-oncology collaboration with GSK, including an anti-PD-1 antagonist antibody (JEMPERLI (dostarlimab-gxly)), an anti-TIM-3 antagonist antibody (cobolimab, GSK4069889) and an anti-LAG-3 antagonist antibody (GSK4074386). We currently generate revenue from milestones and royalties achieved under our immuno-oncology collaboration with GSK. Our antibody pipeline has been developed using our proprietary somatic hypermutation, or SHM platform, which uses in vitro SHM for antibody discovery and is designed to replicate key features of the human immune system to overcome the limitations of competing antibody discovery technologies.
Our company is led by a strong management team with a proven track record of successfully growing biotechnology companies with deep experience in antibody discovery and development, collaborations, operations and corporate finance.
Change
Volume
52 Week High
52 Week Low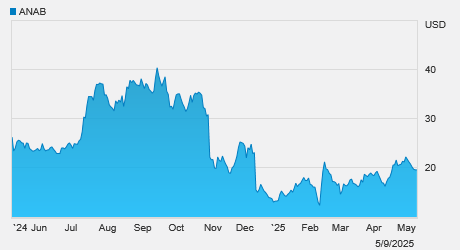 Data Provided by Refinitiv. Minimum 15 minutes delayed.