Investor Relations
Overview
AnaptysBio is a clinical-stage biotechnology company focused on delivering innovative immunology therapeutics. It is developing immune cell modulators, including two checkpoint agonists in clinical-stage development, for autoimmune and inflammatory disease: rosnilimab, its PD-1 agonist, in a planned Phase 2b trial for the treatment of moderate-to-severe rheumatoid arthritis; and ANB032, its BTLA agonist, currently in a Phase 2b trial for the treatment of moderate-to-severe atopic dermatitis. Its preclinical immune cell modulator portfolio includes ANB033, an anti-CD122 antagonist antibody for the treatment of autoimmune and inflammatory diseases. In addition, AnaptysBio has developed two cytokine antagonists available for out-licensing: imsidolimab, an anti-IL-36R antagonist, in Phase 3 for the treatment of generalized pustular psoriasis, or GPP, and etokimab, an anti-IL-33 antagonist for the treatment of respiratory disorders that is Phase 2/3 ready. AnaptysBio has also discovered multiple therapeutic antibodies licensed to GSK in a financial collaboration for immune-oncology, including an anti-PD-1 antagonist antibody (Jemperli (dostarlimab-gxly)), an anti-TIM-3 antagonist antibody (cobolimab, GSK4069889) and an anti-LAG-3 antagonist antibody (GSK4074386).
Our company is led by a strong management team with a proven track record of successfully growing biotechnology companies with deep experience in antibody discovery and development, collaborations, operations and corporate finance.
Change
Volume
52 Week High
52 Week Low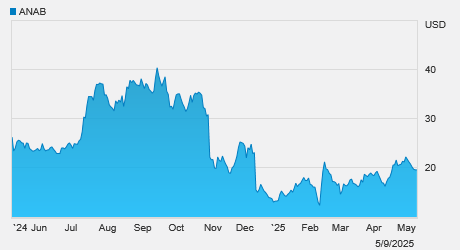 Data Provided by Refinitiv. Minimum 15 minutes delayed.